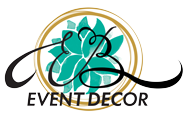 FREQUENTLY ASKED EVENT DÉCOR QUESTIONS
Before, you book your first Event Décor Consultation, please visit our website first. Get to know us virtually. Our extensive gallery showcases previous events that are divided into categories. It is very easy to navigate through and find exactly what you are looking for. We hope that this process will assist you in choosing your style and colour scheme. Take quick notes or save photos to be shared with us via email. Please review our price list. Once you did get to know us virtually, feel free to email us and book your in-person consultation and start the planning!
It is always great to start planning in advance. This way you have enough time to do your research and identify your goals. If you do not have this time and you do require to make instant decisions, E&B Event Décor comes to the rescue! We can help you make these decisions effortlessly. Our team of professional decorators and designers will brainstorm and deliver unforgettable results.
If you are worried about booking the right venue, getting photo and video production, missing stationary, event rentals, uplighting and more? You are in good hands. We can introduce you to the best Industry Professionals who are on the same page and will deliver astonishing results.
We offer numerous options when it comes to florals, greens and fillers. Please keep in mind that some flowers are seasonal flowers.In other words, seasonal flowers are only available during a certain season. However if you have a desire to have a certain flower, we can try obtaining it for you at a premium cost*. Flower selection will be identified after we establish your event's style. Get ready to have Fun!