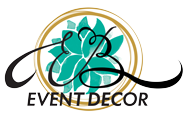 ABOUT E&B EVENT DÉCOR
We've been a part of the Event Industry for 16 years. Throughout the years we've learned, adapted, challenged ourselves and modified to fit the current trends but also remained unique and exclusive. At E&B, we work hard to develop new skills by studying from the Best Designers, taking annual workshops and collaborating with other Event Decor Specialists.
Event Design and Floral Decor require artistic touch, one-of-a-kind imagination, attention to details and a lot of patience. We treat every single event as an individual celebration. We take time and pride in every production.
E&B Event Décor participated in numerous Weddings setups, Pop-Up Flower Stands, Corporate Event Planning and full decor, Product Launches, Gala Celebrations, Business Awards, Sweet 16s, Bar/Bat Mitzvahs, Engagement Parties, Baby Showers and much more.