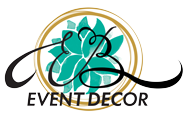 E&B Event Décor is a distinctive and highly professional event décor company. From elegant, intimate gatherings to extravagant, corporate events, we always use novel ideas, creative designs and unique ways to showcase your next event.
We have been a part of the event industry for 18 years and we continue to reinvent and challenge ourselves to produce unique and unforgettable affairs.
E&B EVENT DÉCOR
CELEBRATE LIFE
Find out how our professional event consultants will design a memorable and unique package that will fit your budget and style. We customize each package for the size of the event and plan it according to the theme of your choice. Whether it's an intimate gathering or a large event, let us handle all the details for you. Our detailed planning, guidance and site inspections will ensure the fantastic event of your dreams.
From elegant weddings to sophisticated corporate events, we have solutions to all of your decorating and planning needs. Our dedication and passion to achieve the perfect atmosphere for every event can be seen in each and every project.